Vodafone Iceland is one of the largest telecommunications companies in Iceland. It provides a range of communications services including voice, messaging, and data, and operates stores around the country. The organization has over 400 employees and revenue of over €130 million per year.
Goal
Decrease manual time spent fixing errors at end of month
Increase revenue by correctly invoicing new customers
Results
74% less time spent manually fixing errors end of month
Increased revenue by >10% from new customers
Challenge
In the often complex telecom business, correct flow of data and data quality is vital to both employees and customers alike. The companies have multiple revenue streams and a complicated set of business rules to calculate invoices based on different kinds of metered usage and discounts. Data errors in such systems can be time consuming to track down and result in loss of revenue. In fact, there are number of research that try to quantify these losses. For example:
"It is estimated that 1 to 5% of EBITDA flows unnoticed out of companies because they do not have their contract management and payment follow-up processes completely in order."
- Nikolaas Vanderlinden, Executive Director Advisory (Risk) at EY
When Vodafone Iceland approached us to implement continuous monitoring upon their billing processes, they had measured that the current processes resulted in thousands of errors each month. At end of each month, a group of employees spent on average 4 work days working down the list before they were able to send out monthly invoices. They also identified the problem that customers that signed up recently were not invoiced for the usage for the first few weeks.
Solution
We set up the exMon solution at Vodafone and connected it to their business systems. In cooperation with Vodafone's Data team, we mapped out the revenue process and identified the top 10 key errors during each month.

We then created exMon business rules based on those errors. When exMon found exceptions to one of those rules, it logged the error and assigned the exception to an employee that could work on the issue. For important exceptions that were not dealt with in time, escalation rules within exMon ensured the issues were resolved.
Results
After implementing those 10 exMon business rules, the changes were quite dramatic. Exceptions were spotted sooner and closer to the source, making them easier to fix.
After running exMon for few months the team quantified the results. The graph below shows how billing errors were reduced by 74% compared to average month before exMon. This change resulted in that the manual end-of-month process went from 4 days, to well under 1 day.

This change also led to more accurate invoicing for new client. The team estimated this to be an increase of over 10% for the first month for new customer.
For the first year, Return on Investment was estimated around 150% for the project, with even more benefits further down the line.
After this implementation, exMon has proven itself in more crucial parts of the organization, including:
Fraud monitoring
CRM quality
Financial Controls
Security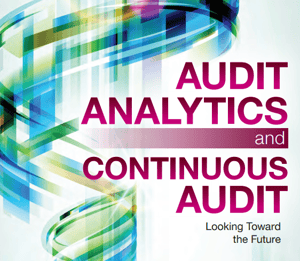 Audit analytics Case Study
The Vodafone Iceland case is detailed in the book Audit Analytics and Continuous Audit book by AICPA.
Download your copy for free by signing up below.